Contact us for the number one brand of products like Hazelnut Spread Sachet, Fresh Crunchy Peanut Butter Spread, Chocolate Peanut Butter Sachet, etc.
About Our Company
Popular as an entrusted manufacturer and exporter, we, Nuflower Foods And Nutrition Private Limited have successfully pleased numerous customers by our quality standards. Our company offers the number one brand of Almond Butter Spread, Double Chocolate Spread, Almond Butter Sachet, Double Chocolate Spread Sachet, etc. All these products are made from the best grade ingredients. Our range is preferred because of the taste as well as health benefits of items. For the convenience of customers, we supply our array at affordable prices. Since the year 2014, our company has been acquiring the first place in domestic and international markets. This is due to its constant growth in terms of product development and improved labelling services. One of the reasons behind our strong foothold in the industry is a huge distribution channel. It is being managed by highly experienced personnel, who ensure our presence in numerous territories. Owing to the huge demand of our brand, we receive bulk orders on regular basis. They are fulfilled by us within the less time because of our large manufacturing ability.
Private Label Manufacturing/How We Partner?
We are famous as an ideal commercial partner that welcomes customers looking for reliable manufacturers of Nut Butter and Spread who do not over-charge for private label services. Our company invites established food brand as well as new growing enterprises. We are acknowledged as a an entrusted production partner because of our efficiency to fulfill huge and urgent requirements of customers. Our company is open to clients from all over the world.
4 Steps of Excellence
Research and Development: We manufacture and supply products with great health benefits. Our team respects natural resources, avoid wastage and opt Eco-friendly methodologies.
Gentle Production: To ensure the creation of A grade range of items such as Almond Butter Spread, Almond Butter Sachet, etc., we use world-class processing machines and equipment. Whole manufacturing process takes place under the vigil of experts
Accurate Packaging: We use ecological packaging for our items which highlights our care for the environment. All the items are packed with perfection to safeguard their quality
Safe Shipment: Available high-end transportation facilities allow us to complete shipment safely within the committed duration
Why Us?
One Stop Centre: We are trusted for being a direct partner offering the best services and solutions
100% Reliable: Customers are assured about best prices, transparent deals and timely shipment
Quality Oriented: Facilities available at our premises are quality certified (FSSAI and APEDA). In addition, all our offerings are made from premium grade ingredients
Cost Effective: For the ease of customers, we have been offering our products and services at market leading prices
Certifications
We are admired for the quality of our products like Double Chocolate Spread Sachet, Almond Butter Sachet, etc. Given below are the certificates that have been accredited to our company:
ISO 9001:2015
ISO 22000:2005
Halal Registration Certificate
FSSC 22000
GMP from BSCIC
FSMS from BSIC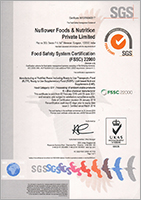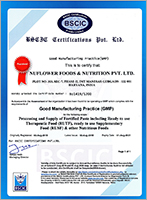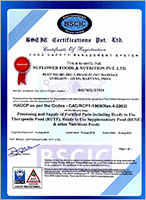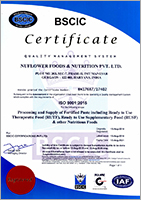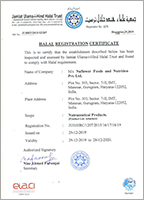 Get in touch with us